| | |
| --- | --- |
| | |
Finally, Linux for the Desktop?
Since being developed as a pet project by Linus Torvalds in the early nineties, the Linux operating system has been gaining enormous popularity among IT professionals and others alike everywhere. But the one place that Linux has failed to develop is that of being the average users desktop operating system.

When Linux was developed, it was created to be an alternative solution to the popular and costly Unix operating system, which ran most of the servers at that time. Since then Linux has become the second most popular server operating system (OS) behind Windows NT/2000 as well as now being used to power everything from PDA's to internet appliances. But amidst the recent Linux explosion many people have wondered where does Linux fit into the desktop market.

The answer to that is unclear. From its roots as a Unix clone, it seemed Linux was destined just to be another server operating system confined only to the uses of network administrators and IT professionals. But with the technology boom in recent years all of that has changed. Linux has taken on different roles and directions due to its low cost and open source features. In all of this growth, Linux seems to have been left out of the desktop market or at least confined to the PC's of Linux hobbyists and enthusiasts.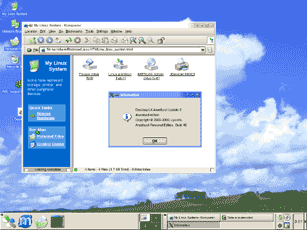 That seems to be changing with the most recent release of Lycoris Desktop/LX. Lycoris Desktop/LX, formerly known as Redmond Linux, has seemingly done what all other Linux distributions have tried for years to accomplish. To create a reliable desktop operating system that is unbelievably easy to use and includes a wide array of software to accomplish any task you might have. Other distributions have tried this but failed in their attempts by not keeping the user in mind, and not remembering the simplicity and easiness that normal everyday users need.

My experience with Lycoris Desktop/LX has thus far been the best of all Linux or Unix distributions I've used. After downloading the 512MB ISO file from a Lycoris mirror website, I burned a CD and proceeded to install Desktop/LX on my trusty 800mhz Athlon test PC. I have equipped this system with some pretty standard components such as the Asus A7V133 motherboard with 320MB of PC133 SDRam and a Maxtor 20GB hard drive. It's not designed to be the fastest gaming machine there is, but rather to be the equivalent of what most home and office PC users have.

I booted from my burned CD and was presented with a colorfully interactive menu to either begin the install or to probe my video card. Gone are the days of having a hundred lines of cryptic text scroll down the screen during the initial boot before being prompted to start the installation. Several other distributions of Linux have done this so it appears that there is a growing trend in the Linux community as a whole to try and make it simpler install and use.

Once the installation was under way, I was startled to see that the installation process of Desktop/LX actually made good on its promise of having a simple and painless installation. My previous experiences with Linux installs were never easy or truly user friendly. The installation of Desktop/LX can be compared to that of Microsoft Windows in it's ease of use and by the amount of user interaction that is required. Lycoris has put a tremendous amount of effort into simplifying what was once a daunting task of getting a Linux operating system installed, never the less working effectively and flawlessly.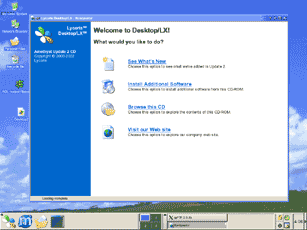 The hardware in my test machine is fairly standard, using a nVidia GeForce2 video adapter, Realtek RTL8139 network card, and a Asus motherboard with AC`97 onboard sound. Unfortunately at the time of testing I did not have any additional devices such as a DVD-Rom, CD-RW, or USB device installed to test with Desktop/LX.

Amazingly, Desktop/LX auto detected the hardware devices and installed the appropriate drivers. I wasn't fully convinced that Desktop/LX did a good job until I booted the first time and heard that orchestra style chime coming from my speakers. Along with the sound, the video was properly configured with the correct resolution and refresh rate giving a clear and crisp picture.

The only issue I noted was that Desktop/LX hadn't properly detected my onboard Promise PDC20265 IDE/RAID controller. I am not sure if this was an improper BIOS or jumper setting, so users with onboard IDE controllers may want to check with Lycoris or the hardware manufacturer to make sure these devices are fully supported.

What left a large impression on me was the driver database. Lycoris has given Desktop/LX an extraordinarily large driver database covering just about every hardware manufacturer I've heard of and then some. I don't see why there is no reason that Desktop/LX shouldn't work on at least 98% of home desktop PC's today. Even the ones that are several years old should have no problem running Desktop/LX. Hopefully other Linux distributions will see what Lycoris has done and follow them adding large driver databases to their own versions of Linux.

Added to the setup process is an optional feature that most people will find enjoyable. Once all of the installation options are set and Desktop/LX begins to install, the setup process offered me ability to play as many games of Solitaire that I wanted while the installation completed. This goes away from the normal trend of operating systems flashing screens of their features and advertisements while you sit there and wait. It is definitely a welcomed change by me considering I have sat behind numerous monitors doing nothing but spinning CD's to pass the time while the installation finished.

Upon the completion of the install and reboot, I checked the time and noticed it had only taken a mere 20 minutes for the entire installation of Lycoris Desktop/LX. I had began the installation at 6:27pm and was logged in to the desktop by 6:47pm. I barely had enough time to refill my Dr. Pepper, sort a few papers, and figure out where that mysterious cup on my desk came from before the install was finished and ready to go. In my opinion the Desktop/LX installation performed flawlessly and outperforms other major operating systems in speed and effectiveness. To compare Lycoris to Windows XP, XP took over 40 minutes on my Athlon 1.4ghz processor.